Gugu Mbatha-Raw breathes life into 'Belle'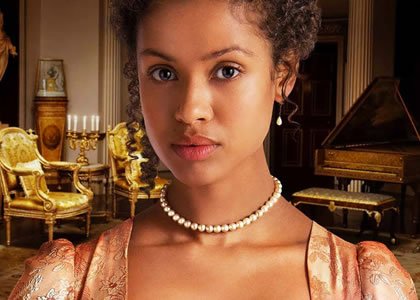 Hollywood's love affair with black films continues with the period drama "Belle." Written by Misan Sagay and directed by Amma Asante, two women of color, "Belle" stands out, not only for its lush, poetic scenery, but also for its subject matter, which tackles race, love, class, gender and economics.
Based on a true story, "Belle" follows the life of Dido Elizabeth Belle (played beguilingly by newcomer Gugu Mbatha-Raw), the illegitimate daughter of a West Indies slave woman, Maria Belle, and a wealthy British Admiral, Sir John Lindsay. After her birth, Lindsay sends Dido to live with his aristocratic uncle, William Murray, 1st Earl of Mansfield, at Kenwood House. Lord Mansfield, who served as Lord Chief Justice of the King's Bench, was a famed barrister who, when called on to judge the case of an escaped slave – "Somersett's Case" - decided:
"The state of slavery is of such a nature, that it is incapable of being introduced on any reasons, moral or political; but only positive law, which preserves its force long after the reasons, occasion, and time itself from whence it was created, is erased from memory: it's so odious, that nothing can be suffered to support it but positive law. Whatever inconveniences, therefore, may follow from a decision, I cannot say this case is allowed or approved by the law of England."
Many historians believe that Lord Mansfield's decision, which helped abolish slavery in Britain, was shaped by his relationship with his great-niece, Dido.
Dido was raised at Kenwood House alongside her cousin, Lady Elizabeth Murray. It was a mesmerizing, 1779 painting of Dido with her cousin that inspired the film, which stars British actress Mbatha-Raw in the title role.
Mbatha-Raw, whose mother is an English nurse and father a black, South African doctor, identifies with the racially mixed woman she portrays on the big screen.
"There are no other films that I know of or stories in our culture that showcase a mixed-race woman in a lead. For me, it grounds you in a sense of history," she told W Magazine. "I think it's exciting for the next generation of girls to grow up watching 'Belle' as much as I grew up watching Colin Firth and Jennifer Ehle in 'Pride and Prejudice.'"
Mbatha-Raw is joined on screen by co-stars Tom Wilkinson, Miranda Richardson, Penelope Wilton and Sam Reid.
This is Mbatha-Raw's first leading role. She also starred in the short-lived television series "Undercovers" with Boris Kodjoe and "Touch," with Kiefer Sutherland. She will also be featured in the upcoming film, "Jupiter Ascending."
Follow me on Twitter @ShondaMcClain