Eagles release wide receiver DeSean Jackson
3/28/2014, 2:39 p.m.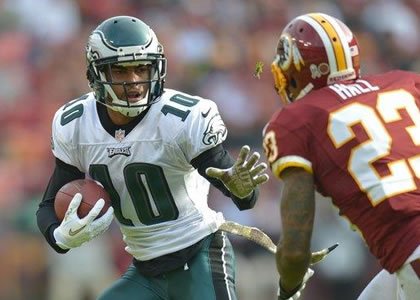 The Philadelphia Eagles have released Pro Bowl wide receiver DeSean Jackson.
The team released Jackson on Friday. Jackson was coming off a career-best season in Philadelphia, leading the team with 82 catches for 1,332 yards and nine touchdowns.
Jackson had a $10.25 million contract for the 2014 season, a price the Eagles were not willing to pay. He was signed through 2016.
The team issued the following statement: "After careful consideration this offseason, Eagles decide to part ways with DeSean Jackson. The team informed him of his release today."
Following his release, Jackson tweeted: "Steady GRind Mode God Got the Plan !! Not Me." He included a picture of himself running on a track.
Eagles center Jason Kelce tweeted: "We just made an extremely unpopular decision, but I couldn't be more excited and happy with where this organization is going!! #FlyEaglesFly
"Good luck with whatever team you end up with DeseanJackson10!"
Following his release, Jackson released this statement:
"First I would like to thank the Eagles organization, the Eagles fans and the city of Philadelphia for my time in Philly. I would also like to thank coach Andy Reed for bringing me in. Secondly, I would like to address the misleading and unfounded reports that my release has anything to do with any affiliation that has been speculated surrounding the company I keep off of the field. I would like to make it very clear that I am not and never have been part of any gang. I am not a gang member and to speculate and assume that I am involved in such activity off the field is reckless and irresponsible. I work very hard on and off the field and I am a good person with good values. I am proud of the accomplishments that I have made both on and off the field. I have worked tirelessly to give back to my community and have a positive impact on those in need. It is unfortunate that I now have to defend myself and my intentions. These reports are irresponsible and just not true. I look forward to working hard for my new team. God Bless."
Jackson has 356 career receptions for 6,117 yards and 32 touchdowns. The 27-year-old wide receiver is entering his seventh season.
The Associated Press and USA TODAY contributed to this article.