Kim and Kanye grace cover of Vogue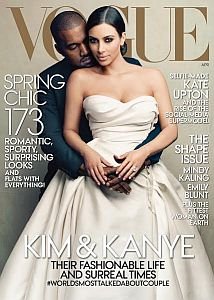 Kim Kardashian's dream of being a Vogue cover girl has come true.
She and her fiancé, rapper Kanye West, grace the April edition of the fashion bible in wedding-style attire and appear inside in a photo spread by famed photographer Annie Leibovitz.
Although it was once rumored that Vogue's daunting editor, Anna Wintour, had snubbed the reality star, West has maintained that Kardashian's curves were worthy of Vogue. Last October, he told Ryan Seacrest, "there's no way Kim Kardashian shouldn't be on the cover of Vogue." He also said that Kardashian was more influential than first lady Michelle Obama when it came to style.
Kardashian, who is back to her pre-baby body since the birth of the couple's 9-month-old daughter, North, tweeted: "This is such a dream come true!!!" West wrote "Thank you @voguemagazine" on his Twitter account.
West and Kardashian are scheduled to tie the knot in an elaborate Parisian wedding on May 24, which will be documented on Kardashian's reality show, "Keeping Up with the Kardashian's" on E!.
It has been reported that West asked his close friend and frequent musical collaborator Jay Z to stand as his best man, but Hova declined. He, nor his wife, Beyonce, want their family filmed for Kardashian's show.
Follow me on Twitter @ShondaMcClain