Allen Iverson honored as one of the best
Maya Hughes | 3/10/2014, 11:03 a.m.
The Philadelphia Sixers recently honored Allen Iverson by retiring his No. 3 jersey during a ceremony at halftime of a game against the Washington Wizards at the Wells Fargo Center on March 1.
Wearing a black jacket, black pants, black glasses, a black hat and gold chains, Iverson addressed the crowd at center court in front of a line of his old jerseys.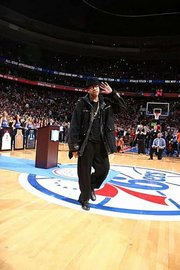 He cupped his hand to his left ear and asked to hear his favorite tune one more time. With that command, 20,000 roaring Philadelphia 76ers fans gave AI his standing ovation, one he earned by stamping himself as one of the franchise's all-time greats.

The ceremony culminated with a red banner bearing Iverson's name, the Sixers name and logo and the No. 3 in white being raised to the rafters. Tina Turner's "Simply The Best" played as the banner proceeded upwards. Iverson's banner was placed between Maurice Cheeks' No. 10 and Charles Barkley's No. 34.
Iverson officially retired in October after last playing in 2010. He won four scoring titles for the Sixers and was the 2001 MVP when he led them to the NBA Finals. He never won a championship, the lone omission in a career that is destined for the Hall of Fame.
"It's bittersweet," Iverson said during his retirement press conference. "It feels good, you know, but some part of my heart hurts because I realize and understand that it's over. … When I come into the arena, I'm stepping out onto the basketball court with street clothes on. And I know I'll never be in a uniform again
The Sixers honored Iverson throughout the game. Four banners greeted fans at the main concourse entrance, and photos of him were plastered all around the arena. The Sixers wore special "Iverson Forever" patches on their jerseys and Iverson's 3 on their pregame warm-up shirts. The Sixers' retirement gift was a boat named in honor of his nickname, "The Answer."
Iverson joined Cheeks, Barkley, Wilt Chamberlain and Julius Erving among the eight retired numbers in franchise history. Erving, Maurice Cheeks, Moses Malone, Dikembe Mutombo, Theo Ratliff, Gary Payton and former team president Pat Croce attended the ceremony.
Former coach Larry Brown was unable to attend the ceremony due to a game, but he sent Iverson his well wishes through a videotaped message.
"I just want to tell you, and I say this fondly: God put me there to coach you," Brown said.
Iverson said Brown was the player who molded him into one of the NBA's best.
"I always had raw talent," he said. "I needed Larry Brown to polish it up."
Iverson was the No. 1 overall pick in the 1996 draft and spent his first 10 seasons in Philadelphia. He also played for Denver, Detroit, and Memphis before returning to Philadelphia for a 25-game stint in 2009-10.
The 165-pound guard averaged 31.1 points, was the MVP of the All-Star Game and propped an entire franchise on his 6-foot frame all the way to the Finals. He's 21st on the NBA's career scoring list with 24,368 points over 914 career games. Iverson, drafted out of Georgetown, scored 30-plus points 345 times and was an 11-time All-Star.
His No. 3 jersey was a best seller around the globe, the headband wrapped snugly around his cornrows, and the tattoos were as much a part of his image as his style of play on the court. Play every game like it was his last was more than a catchphrase, it was a lifestyle.
"I love you, Philadelphia. I love y'all for accepting me and letting me be me," Iverson said. "Letting me make my mistakes, letting me be human, let me learn from them. Just embracing me and making this my home forever.
"I took a beating for me being me in my career. For me looking the way I look and me dressing the way I dress. Now, all of the guys in the NBA have tattoos and dress similar to the way I dress. I'm proud to say I changed a lot with this culture and this game."
The Associated Press contributed to this article.