Eagles, Jeremy Maclin Agree to 1-Year Deal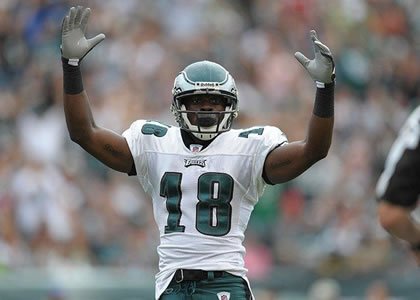 The Philadelphia Eagles enjoyed a strong 2013 season that saw them win the NFC East and qualify for the playoffs even without the services of wide receiver Jeremy Maclin. The team clearly feels as though it can be even better with Maclin in the fold, as the Eagles and the explosive pass-catcher agreed to a one-year deal on Feb. 28
Maclin's deal comes after the Eagles agreed to a five-year deal with fellow wide receiver Riley Cooper. Left tackle Jason Peters and center Jason Kelce also agreed to long-term deals last week.
"Jeremy is an ideal player for our scheme with his combination of size, speed, strength and route-running ability, in addition to his dynamic playmaking talent," said Eagles general manager Howie Roseman. "We're happy to see him rehabbing well and to get him under contract for the 2014 season."
Maclin missed the 2013 season after tearing his ACL in his right knee during a training camp practice. Maclin tore the same ligament four years earlier, during his college career at Missouri.
In four seasons under former coach Andy Reid, the 6-foot, 198-pound Maclin caught 258 passes for 3,453 yards and 26 touchdowns. His best season was 2010, when he caught 70 passes for 964 yards and 10 touchdowns.
"I'm excited to see Jeremy play in our offense," said Eagles head coach Chip Kelly. "You saw the potential of that in the spring and summer but obviously he didn't get an opportunity last year. However, what was great to see was how he was literally here every single day since being injured. You can see he has a passion for the game of football. When he was on the field last spring and summer, you saw his intelligence, you saw his great route-running ability and you saw how tough of a one-on-one match-up he could be."
Maclin, who turns 26 in May, was the 19th overall pick in the 2009 NFL draft.
The Associated Press contributed to this story.