Sixers draft for the future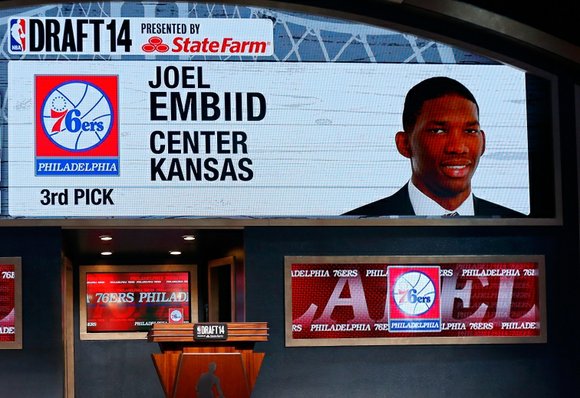 The Philadelphia 76ers have found their big man of the future, selecting Joel Embiid third overall in the 2014 NBA draft despite a serious foot injury discovered in the days leading up to the draft.
Embiid's college basketball season ended with a stress fracture in his lower back, and as he worked out for the top teams in the draft to silence concerns over that injury, a workout with the Cleveland Cavaliers determined he would require surgery to repair a navicular bone stress fracture in his foot. He was not able to attend the draft due to recovery from the surgery
The versatile 7-footer had a fantastic freshman season with the Jayhawks, averaging 11.2 points and 8.1 rebounds while blocking 72 shots to earn Big 12 Defensive Player of the Year honors.
It was just Embiid's fourth season of playing organized basketball and he showed great strides with his post defense at Kansas. Through the first 14 games of the season, Embiid allowed 0.88 points per play and 50.0 field goal percentage as the post defender, according to ESPN Stats and Information. However, during the last 15 games, he allowed 0.55 points per play on 28.6 percent from the floor.
The big question is how Embiid fits alongside last year's No. 6 overall pick, Nerlens Noel. Embiid is more refined from 10-15 feet, but Noel is quicker and better at sticking with, perimeter-oriented power forwards.
Embiid won't be Philadelphia's only lottery pick sitting out next season.
The Sixers took Elfrid Payton with the 10th pick, then traded him to the Magic for Croatian forward Dario Saric. Saric signed a three-year deal last week to play in Turkey. The Sixers hold the rights to the 6-foot-10, 230-pounder for the next three years, and it could be that long until he plays for Philly.