Two Groups Announce Plan to Boost Spending Among Blacks
Jazelle Hunt, NNPA Washington Correspondent | 7/17/2014, 6 a.m.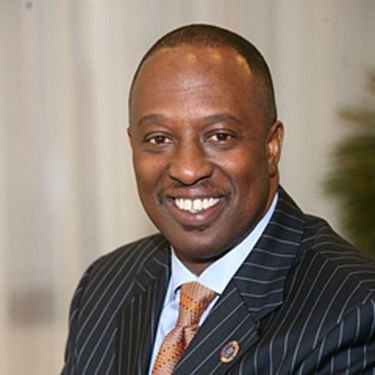 WASHINGTON (NNPA) – The U.S. Black Chambers (USBC) and the National Association of Black Hotel Owners, Operators, and Developers (NABHOOD) are formally partnering to make sure that a significant portion of the $40 billion African Americans spend each year on travel and tourism remains in Black hands.
The partnership was launched last week at the start of USBC's professional development conference, held at the Marriott Marquis in the District of Columbia. The newly-opened, four-star hotel, next to the Walter E. Washington Convention Center, was jointly financed by Capstone Development, a private, Black-owned development firm.
"Today is about more investment in the hotel and travel industry," Ron Busby Jr., USBC president, said at a press conference. "As African Americans, we have conferences, events, weddings, and vacations, always with White-owned establishments. I think we can bring some that money back to us."
A Nielsen study conducted in cooperation with the National Newspaper Publishers Association (NNPA) found that African Americans spent 40 billion each year on the travel and tourism industries last year.
But Andy Ingraham, president and CEO of NABHOOD, few of those dollars turn over in the Black community.
"I'd rate [concerted Black patronization] as pretty nonexistent," he said. "We have to create awareness, because most people who come in contact with this idea think it's a damn good idea."
Interestingly, Nielsen finds that Black Americans are 28 percent more likely than other groups to read financial magazines such as Forbes and Fortune, yet have low levels of participation with mainstream financial products such as purchasing stock or mutual funds.
Although Black Americans have yet to truly wield their power as consumers, prominent brands have taken notice, including. Marriott International.
"We see the power of the African American wallet, spending, and economic value," said Apoorva Gandhi, vice president of Multicultural Markets and Alliances for Marriott. "It's really important to us that we are consistently authentic in how we employ – through recruitment and developing executive professionals – and also how we market to, and do business with this segment."
The hotel brand has been named one of Black Enterprise's top 40 companies for diversity for eight consecutive years. Marriott has also maintained decades-long partnerships with m major Black organizations such as the National Urban League, NAACP, the National Black MBA Association.
"One way we try to reach the African American segment is through our multicultural and diversity partners," Gandhi says. "One, because these are great organizations doing great things. But also, they are gateway groups to their demographic. We work to support their goals because, frankly, they're our goals too."
Marriott says it was the first hospitality company to establish a diversity and inclusion program. Today, it is also one of a handful of big-name hotels working to cultivate Black executives and owners.
Interestingly, Norman Jenkins, NABHOOD treasurer, and founder of Capstone Development, the company that co-financed the Marriott Marquis in D.C., is also a former Marriott executive. Under his leadership, the brand boasted of at least 500 minority-owned or minority-franchised Marriotts around the world in just three years under its Diversity Ownership Initiative.