July BUZZ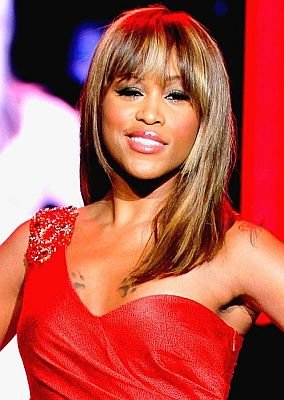 Rapper/actress Eve has married her longtime boyfriend, British fashion designer and motor rally Gumball 3000 CEO Maximillion Cooper. The two wed on June 14 in sexy Ibiza, Spain and they could not be happier.
"I'm so happy to make Eve my wife," the groom told E!. "The whole experience has been amazing and we are both so happy to have tied the knot."
Eve, 35, wore a gown by British designer Alice Temperley with a dramatic, cathedral-length veil.
The couple, who got engaged on Christmas Day, met at the 2010 Gumball 3000 race. "So it only seemed right to have the wedding at the finish of this year's rally in Ibiza, which was the final stop on this year's event," Cooper said. "We couldn't be happier to celebrate such a special day with all our family and friends."
This is Eve's first marriage.
When comedian Tracy Morgan is released from the hospital, he has a new job waiting for him.
Before the accident on the New Jersey Turnpike that critically injured Morgan and three others and left one person dead, Morgan was working with the network on a half-hour comedy that was scheduled to start shooting in August for a January premiere on the FXX network.
Morgan's recovery is expected to take several weeks, but the network said whenever he decides he is ready to work "his show will be waiting for him."
Taye Diggs, 43, has found a new gig. "The Best Man" actor is the star of the new TNT drama "Murder in the First."
Mariah Carey is thirsty. Not just for another hit, but for a drink. The singer has created a new beverage, Butterfly, which is described as "a melodic beverage inspired by the magic of Mariah Carey." The pink elixir is available exclusively at Walgreens and the bottle label reads: "Butterfly gives everyone something new to sing about. Let this melodic blend of sophisticated sweetness lift you to your high notes every day that you pamper yourself with a sip of Butterfly inspired by Mariah Carey."
During a press conference, Carey said, "I don't want to give away our secrets, darlings, but it's — everybody else is going to be mad that they didn't do it first. That's all I can say."
The story of gangsta rap group N.W.A. is coming to the big screen. The biopic, "Straight Outta Compton," will follow the lives of Easy E, Dr. Dre, Ice Cube, DJ Yella, Arabian Prince and MC Ren. With its seminal album release in 1988, N.W.A. changed the music landscape with its unflinching look at Los Angeles gang violence and police brutality.
Ice Cube's son, O'Shea Jackson Jr., will portray his father, but there is no word on who will portray the other rappers. Ice Cube is producing the film alongside Dr. Dre and Eazy-E's widow, Tomica Woods-Wright. Director F. Gary Gray is also attached to the project.
Lifestyle maven B. Smith has been diagnosed with Alzheimer's disease. Smith, a former model, was called the "Black Martha Stewart." She created a lifestyle empire with her restaurants, magazine, décor and talk shows.