Agreements streamline transfers from CCC to Rutgers-Camden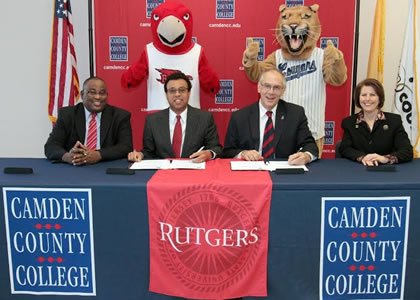 Students whose goal is to earn a bachelor's degree from Rutgers University–Camden after transferring from Camden County College have had that process made easier, thanks to three new agreements between the two institutions.
"Many students who graduate from Camden County College realize that they can continue to maximize their higher education investment by choosing Rutgers–Camden in order to earn their world-class Rutgers degrees," said Rutgers–Camden Chancellor Wendell E. Pritchett in a news release. "We are proud to partner with CCC to help area residents achieve their career and personal goals in a more convenient and cost-effective manner."
The first of the new pacts establishes a bridge program that grants students conditional admission to Rutgers–Camden upon their admission to CCC. It then offers acceptance for most majors in Rutgers–Camden's College of Arts and Sciences and School of Business upon a student's completion of an associate degree with a 3.0 grade-point average at CCC. A range of programs is covered, including studies in arts, business, humanities and social, natural and physical sciences. In accordance with the New Jersey Statewide Transfer Agreement, an associate in arts or an associate in science degree from CCC is fully transferable to Rutgers–Camden as the first 60 credits of a Bachelor of Arts or Bachelor of Science degree program.
The second agreement facilitates the transfer of international students from CCC to Rutgers–Camden. This allows students to hone their English-speaking skills through CCC's English as Second Language Program before transferring into a baccalaureate program. In addition, due to CCC's lower costs, the agreement makes international students more likely to be able to show the proof that they can pay for all four years of their education, which is required before they can receive a student visa.
The third agreement establishes a Rutgers–Camden baccalaureate program in psychology on CCC's Blackwood Campus. Under this program, students have the convenience of remaining at CCC while moving into upper-level courses. This arrangement joins existing programs that allow students to complete Rutgers baccalaureate degrees in business administration, liberal studies and nursing at CCC.