Despite good season, Eagles have room to improve
Maya Hughes | 1/14/2014, 10:53 a.m.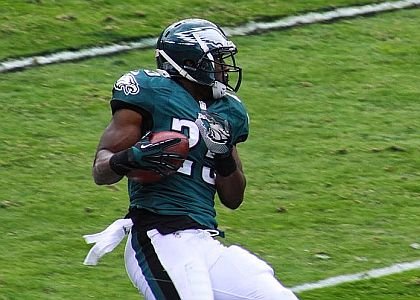 There will be no continuation of the Philadelphia Eagles' miracle season under Chip Kelly. A last-second field goal by New Orleans Saints kicker Shayne Graham sent the Eagles home, handing Philadelphia a tough 26-24 loss in its home stadium.
Nick Foles turned in his usual 100-plus passer rating, and the Eagles defense made some plays early against Drew Brees and Co. But a handful of inexcusable blunders did Philly in, as the Eagles never got their offense into full rhythm.

Despite the loss, the Eagles had a spectacular season with their new head coach Chip Kelly. The Eagles went 10-6 and won the NFC East after going 4-12 the previous season; along the way, the Eagles set their franchise record in points scored and total yards gained, and the defense overachieved all year under coordinator Billy Davis' new 3-4 scheme.
The Eagles head into the offseason with all the makings of a team set to contend in the division for years to come. Foles developed from a backup into a possible franchise quarterback. Foles started six games as a rookie in 2012, winning one of them and pretty much disappearing amid the debris of a 4-12 season.

He seemed like a terrible fit for Kelly's offense, especially in contrast to the mobile Michael Vick. When Vick pulled a hamstring, Foles seized the starting job with epic numbers: 119.2 passer rating (third best all time), 27 touchdowns and two interceptions (best ratio ever). Foles won eight of his 10 starts.

The offensive line turned into a top-five unit in the game. LeSean McCoy led the NFL in rushing and in total yards from scrimmage, setting Eagles franchise records in both categories. McCoy had 1,476 yards going into the NFC East showdown against the Dallas Cowboys, which made him No. 96 on the overall list of NFL single-season rushing yard leaders. He is the first Eagles running back to win the rushing title since Steve Van Buren won it in 1949 with 1,146 yards.
While the Eagles have excelled this year, there is still room for improvement. The biggest need going into the offseason is defensive difference-makers, especially in the secondary. The cornerbacks were solid and improved steadily by season's end, but a shutdown corner or legitimate playmaking safety would help a lot. A close second would be a pass-rushing threat, preferably from the outside. A kicker may also become a priority on draft day.