February BUZZ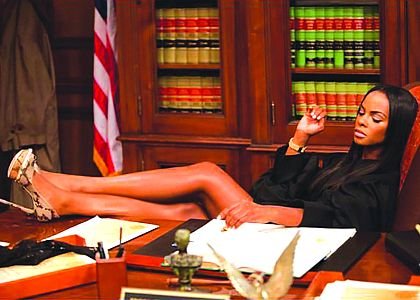 Whitney Houston's daughter, Bobbi Kristina, announced she is married. She secretly tied the knot with her "adopted" brother and long-time beau Nick Gordon and grandma Cissy is none too happy. But, what can she do? Bobbi Kristina is an adult. Gordon was raised by Whitney, as her son, so, you can imagine the creep factor in this for the family. Bobbi Kristina's father, Bobby Brown, was not invited to the wedding.
"Sister Sister" stars Tia Mowry-Hardick and Tamara Mowry-Housley are quitting their successful reality TV show, "Tia and Tamera" after three seasons on the Style network. The two, who are both mothers to young children, are very busy: Tia, who left the BET show, "The Game," now stars in the Nickelodeon sitcom "Instant Mom," co-starring Sheryl Lee Ralph. Tamera is a co-host on the new talkie "The Real," with Tamar Braxton.
"Thank you for three amazing years of 'Tia and Tamera.' Now… on to my new talk show. 'The Real' and some great things I can't wait to share with you," Tamera wrote on her website before confirming that her reality show was over. "Yes, 'Tia and Tamera' will not have a season four. Thank you for always supporting us throughout the years."
But everything has not been roses for Tamera. She recently broke down on an episode of OWN's "Where Are They Now" about the backlash she has received for marrying a white man – Adam Hously. And now, Hously has come out fighting in defense of his wife.
"The fact that in this day and age, we get attacked for our interracial relationship is beyond sad…it is pathetic," Hously told TV Newser.
"Yes, I am white. Yes, she is half-black," he continued. "The problem isn't pigmentation…the problem is backwards, bigoted thought from people who should know better."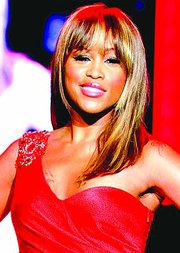 "Ride or Die" rapper/actress Eve has found her Ruff Ryder. The Philly native is engaged to British millionaire Maximillion Cooper, founder of Gumball 3000. Eve, 35, who splits her time between the United States and London, began dating Cooper, 41, in 2011. This will be Eve's first marriage and Coopers second. He has four children from that relationship.
Currently on tour, Eve released her fourth album, "Lip Lock" last year. According to The Hollywood Reporter, the "Barbershop" star may be returning to the small screen. Eve has teamed up with ABC to develop a semi-biographical comedy, for which she would star and serve as an executive producer. The show is rumored to be focused on interracial relationships. Cooper is white.
Eve starred in her eponymous UPN sitcom for three seasons.
In other engagement news, R&B singer Ciara is rocking an impressive bauble from her fiancé, singer/producer Future, real name Nayvadius Cash. She is also expecting her first child.
She announced her pregnancy on "The View" and gushed, "I'm so excited, honestly 'Last year was like the best year of my life, for so many reasons. Being able to get a fresh start with my label, then of course the engagement.'