Elka Battle and Daniel Murillo Wedding story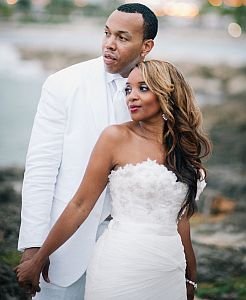 The former Elka Battle was married to Daniel Murillo in a picturesque ceremony during Labor Day Weekend, on Saturday, August 30, 2014 at 2pm at the Grand Palladium Resort & Spa in Montego Bay, Jamaica. The bride, escorted by her father, was a vision in her white gown, which featured a sweetheart, scalloped corset bodice, draped mermaid dress with a chapel-train, and a finger-tip double bubble veil adorned with crystals. Elka and her bridesmaids all carried bouquets of white calla lilly flowers.
The couple was joined by more than 115 guests who flew from across the United States to be a part of their special day.
The Bride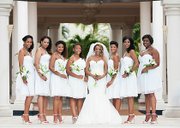 Elka, is the daughter of Air Force Colonel and retired Judiciary Equal Employment Opportunity/Affirmative Action Chief for the state of NJ Bobby and Wilhelmena Battle of Voorhees, NJ. After many years as the Director of Communications at the PHL Convention & Visitors Bureau's Multicultural Affairs Congress, Elka began serving in her current position as Deputy City Representative for the City of Philadelphia in 2012. She is a graduate of Hampton University, where she received a Bachelor of Arts in Mass Media, Public Relations and a minor in English. Elka is a member of Delta Sigma Theta Sorority, Inc., Jack and Jill of America, Inc., Living Faith Christian Center, and National Association of Black Journalists, among others.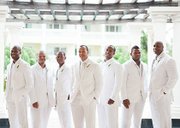 The Groom
Daniel is the son of Columbian professional international and US national soccer player Daniel and Joan Murillo of Queens, NY. Attending Hofstra University with an academic and football scholarship, Daniel received degree in Business Information Systems. He currently works at Bloomberg LP managing their institutional sales and trading client business in Toronto. Daniel is a member of Alpha Phi Alpha Fraternity, Inc.
Their Story
Elka and Daniel met briefly in the spring of 2006 at a graduation party in New York. The two barely spoke that night, other than a short exchange of words, but that would not be the last time their paths crossed. The very next weekend, Elka was on a trip to Jamaica with her friends, and when she arrived she noticed some familiar faces in the customs line — Daniel and several of his fraternity brothers.
Not only were both groups staying at the same resort, but they also had similar itineraries for their trip. Elka and Daniel went a few days without seeing each other before the pair ran into each other at the pool. After a long conversation, Daniel and Elka spent the remainder of their trip together. For the next 7 ½ years, the couple remained inseparable and in love.

On December 26, 2013, at the W Hotel in Fort Lauderdale, Florida, Daniel proposed and Elka said "Absolutely. Of course. Definitely…Yes!"
Then, their story came full circle when they returned to the island where they first fell in love— Montego Bay, Jamaica — to begin their journey as husband and wife.
The Bridal Party
Consisting of family members and friends from high school, college, and work, the wedding party included: Nicole Bertrand of St. Thomas, VI; Sister of the bride, Monique Bouggess of Mullica Hill, NJ; Nicole Crawford of Voorhees, NJ; JeJuan Ford of Philadelphia; Crystal Robinson of Voorhees, NJ; and Genee' Williams of Blackwood, NJ served as bridesmaids. Daughter, Kayla, was a junior bridesmaid and neice Timia, was their flower girl. The groomsmen included best man, Frantz Jean-Baptiste of Long Island, Marc McCaw of Long Island, Rudy Racine of Jersey City, Tony Roche of Queens, Leyde St. Leger of Brooklyn and nephew Andre Tucker of Queens.