Movie Review: Get On Up
Dwight Brown, NNPA Film Critic | 8/1/2014, 6 a.m.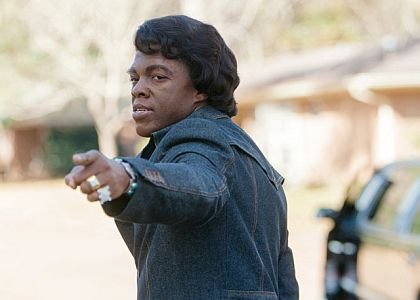 This much-awaited bio-film tells you some things you already knew: James Brown could sing the funk out of a song. It also shows you some things you might not have grasped: troubled boys grow up to be troubled men. Warts and all, in fits and starts, finally the Hardest Working Man in Show Business gets his story told.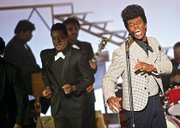 This project had been in development for years. It took on new momentum when Browns' family approached Mick Jagger of the Rolling Stones about shepherding the production, which he did with producer Brian Grazer (American Gangster, Frost/Nixon); the Stones and James Brown once toured together. The producers hired director Tate Taylor, who made the politically incorrect and historically inept, The Help but also the strong drama Winter's Bone. Taylor reassembled his tech crew from The Help, which included: the ingenious costume designer Sharen Davis (Dreamgirls), director of photography Stephen Goldblatt (Angels in America), production designer Mark Ricker (Julie & Julia), with the new addition of editor Michael McCusker (The Amazing Spider Man). The technical credits for the movie are solid, with the costumes and set design standing out.
As the film unfolds, a young James Brown (Jordan and Jamarion Scott) lives with his mother Susie (Viola Davis) and his father Joe (Lennie James, Snatch) in a shack in backwoods South Carolina. Mom and dad have a torrid and abusive relationship. At a tender age, she abandons James. One day dad drops him off at his Aunt Honey's (Octavia Spencer) whorehouse. James becomes a barker, driving customers to Honey's house of prostitution. James can't stay out of a trouble as a kid and as a teen (Chadwick Boseman, 42) his law-breaking ways get him a prison sentence. Behind bars he meets a gospel group headed by Bobby Byrd (Nelsan Ellis, True Blood). Before you can count, a-one-and-a-two, Brown is paroled into Byrd's home and he becomes the lead singer of gospel-turned-soul group called "The Flames." That chance meeting turns Brown's life around.
Screenwriters Jez and John-Henry Butterworth (Edge of Tomorrow) with the help of a story by Steven Baigelman (Feeling Minnesota) infuse a lot of facts, events, tragedy, family drama and music group dynamics into the storyline. You learn a lot about the psyche of a world-renown musician, who, even after so much success, got arrested and imprisoned in 1988 for leading South Carolina police on a PCP-induced car-chase.
Between director Tate Taylor, the writers and the editor Michael McCusker, someone made the misguided decision to tell this story not as a straightforward bio film but as a disconcerting series of flashbacks, that feel more random than rhythmic. Long after Brown is a full-grown man, there are clips of him interspersed as a kid, as if his childhood haunted him into his later years. Once you see young James pulling the shoes of a lynched man and saving them for himself, you know he has a tortured soul. You don't have to be beaten over the head, for 133 minutes, with flashbacks.