Meet Rutgers University-Camden's new chancellor Phoebe Haddon
Haddon seeks to increase student enrollment, collaboration between academic disciplines, community involvement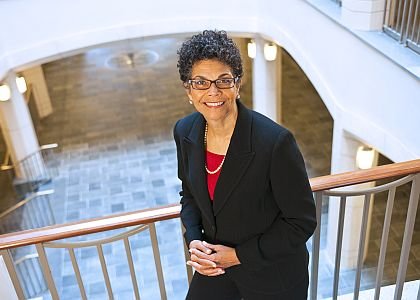 "We have to make sure that not only through state and federal support, but also through philanthropy we get the opportunity to get the resources to support students who are not necessarily able to support themselves in getting their post high school education," Haddon said. "We have graduate and professional schools here. We have to be mindful of the cost, but we can help by providing opportunities through grants, scholarships, and other support."
Haddon would also like to expand on the success stories of existing partnerships with local colleges and universities and sustaining the number of student graduates.

"The university has already increased the number of graduates and Ph.D. programs," said Haddon "I hope to really make sure that they are nurtured and are strong; getting more great candidates to attend as graduates and post-graduates is a good way of doing that. I also want to increase the public private partnerships; helping to enable those kind of things through the civic engagement that other activities that we undertake."

"We also want to continue to connect with community colleges nearby," she added. "We have a large percentage of students that come from community colleges. We also have collaborative opportunities with other colleges and universities.
"One way to keep the cost of education down, is to create a host of different programs. You also have to be mindful of efficiencies and partnerships with other universities and colleges which can help with that. I went to Smith College in New England. The school was a part of a five college program, where we shared resources with each other and collaborated with one another. We weren't always in competition with each other."
Haddon continued by saying that she hopes students who graduate from Rutgers-Camden not only become lifelong learners, but that they also instill the values they learn and apply them to their own careers.
"I want them to understand that complex problem solving crosses different disciplines and boundaries and that team based problem solving is the best kind of problem solving," she said. I'm hoping that they take the relationships, advice, and lessons they received from their professors and apply it in their careers. Through civic engagement and other things I hope that they learn skills that will enable them to have productive careers."