Meet Rutgers University-Camden's new chancellor Phoebe Haddon
Haddon seeks to increase student enrollment, collaboration between academic disciplines, community involvement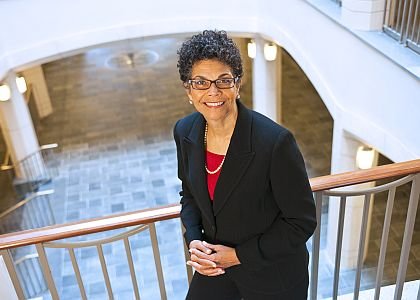 Respected nationally as a constitutional scholar and a leader in higher education, Phoebe A. Haddon started her new job as Chancellor of Rutgers University-Camden on July 1. A month later, Haddon is not only looking forward to the new academic school year, but she's also excited about the future of the university.
"The first day of my tenure I took a walk and I got a chance to get a feel for the campus," Haddon said. "I visited the Stedman Gallery and went into some of the buildings I did not know about before. That was the first day of the transition of Stratford Nursing School to become a part of the Rutgers family.

"They were having a celebration out in the park area on campus. It was their first day and my first day. I'm extremely excited about my new tenure here. I spent 30 years in Philadelphia and I grew up in New Jersey. This is a homecoming to me."
The chancellor is the chief executive officer of the Rutgers–Camden campus, overseeing 1,100 employees and an annual budget of more than $60 million. Haddon has direct responsibility for the daily administration of a campus that enrolls nearly 6,600 students in 39 undergraduate programs and 28 graduate programs at the master's and doctoral levels.
She also plays a leadership role in the revitalization of Camden and serves as an important partner with other institutions and businesses in promoting the economic, social, and cultural development of the fastest-growing region in New Jersey.
"I want to increase enrollment from 6,600 to about 8,000 over the next several years," Haddon said. "I also want to preserve the collegiality and warmth of the community that has been a hallmark in the past. I felt in these first few days in talking to faculty, students, and staff it's a really great place from that standpoint and the willingness to collaborate will be very important.

"I think higher education needs more collaborations across disciplines," she added. "Rutgers-Camden is a nice manageable size research institution. Its got great potential I think regionally to make its mark, even more than it has in the past; I want to help make that happen. The community and campus are already tight partners. This university has a real commitment to civic engagement that is embraced by students, faculty, and staff.

"We're really going to go the next step to being involved in the community and provide experiential learning opportunities for our students and engage in the good work that is going on in Camden. We have a history of that, but I also want to take it to the next level.

"With new leadership and with the commitment of faculty, staff and students we will be able to do that. This is a campus that also has a commitment to diversity and access. I want to make sure both through the work that we do in Camden, our enrollment, and hiring that we reflect that commitment."

Haddon is an advocate for affordable education. She believes that colleges and universities have to be mindful of the cost of education and through philanthropy and other resources she believes that education can be affordable to all.