Porsha Williams charged with battery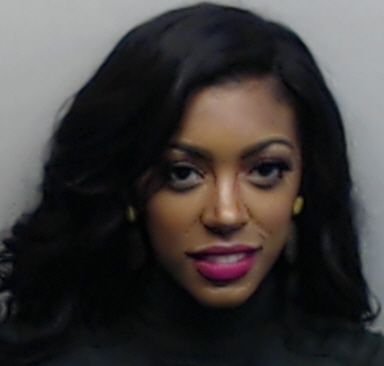 The Rev. Hosea Williams is turning in his grave.
The late civil rights activist's granddaughter, "Real Housewives of Atlanta" (RHOA) star Porsha Williams was charged with misdemeanor assault after a fight with her co-star, Kenya Moore.
Williams attacked Moore during the taping of the "RHOA" season 6 reunion show and the former beauty queen pressed charges. After police viewed raw footage of the fight from Bravo, they issued an arrest warrant for Williams.
Part one of the reunion show featuring the fight aired Sunday night. The brawl began after Moore called Williams "a dumb ho." Williams stood up to confront Moore, who also stood up. Williams then grabbed Moore by the hair and dragged her across the floor, to the shock and horror of their fellow cast mates – NeNe Leakes, Cynthia Bailey, Phaedra Parks, Kandi Burruss and host Andy Cohen.
Williams turned herself in to Fulton County Jail on April 16, but not before taking a glamour-girl selfie and posting it on Instagram, writing "But 1st let me take a selfie!" After spending a couple of hours in custody, and having her mug shot taken, she was released on $2,000 bond.
"Kenya Moore sought out the warrant and, although the claim is unfounded, Ms. Williams is fully cooperating with investigators and looks forward to clearing her name," Williams's attorney Joe Habachy said in a statement released Wednesday.
According to TMZ, Williams plans to ask the D.A. to file felony aggravated assault charges against Moore.
A court date for Williams has not been set.
Follow me on Twitter @ShondaMcClain