Lupita Nyong'o is the face of Lancôme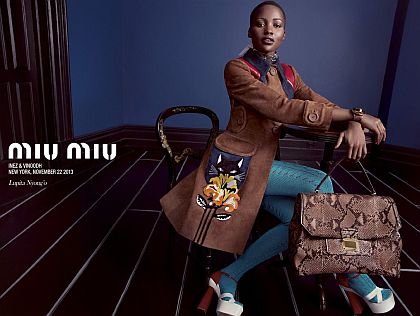 Lupita Nyong'o's meteoric rise to fame has as much to do with her luminous beauty and uncanny style as it does with her breakthrough role in Steven McQueen's "12 Years a Slave," which earned her the Academy Award.
And now, Hollywood's fashion darling has just scored another coup. The fresh-faced ingénue has been named the new face of Lancôme.
"I am truly honored to join the Maison Lancome, a brand with such prestigious history and that I have always loved," said Nyong'o. "I am particularly proud to represent its unique vision for women and the idea that beauty should not be dictated, but instead be an expression of a women's freedom to be herself."
Nyong'o, 31, is the first Black woman to represent the high-end beauty line and legendary modeling agent Bethann Hardison, who fights for racial equality in the fashion world, is singing her praises.
"Lupita's stylist and her team should be given a round of applause," Hardison told the New York Times. "They put her right in your face and you couldn't deny anything she did. That was genius."
Silvia Galfo, senior vice president of marketing for Lancôme, agreed.
"What was interesting was the build, was what whoever worked with her did, positioning her as a style icon" said Galfo. "She came out of nowhere and suddenly you see her being the most coveted 'It' girl."
Nyong'o, who is Kenyan, has said that she did not accept her dark skin and close cropped hair as beautiful until she discovered Sudanese model Alek Wek.
''A celebrated model, she was dark as night, she was on all of the runways and in every magazine and everyone was talking about how beautiful she was," Nyong'o said during Essence magazine's Black Women in Hollywood event. ''Even Oprah [Winfrey] called her beautiful and that made it a fact ... When I saw Alek I inadvertently saw a reflection of myself that I could not deny. Now, I had a spring in my step because I felt more seen, more appreciated by the far away gatekeepers of beauty.''
And, indeed, she is.
The new Lancôme campaign will launch in September.
Nyong'o is also the face of Miuccia Prada's Miu Miu fashion line.
Follow me on Twitter @ShondaMcClain