NUL State of Black America: Growing Income Inequality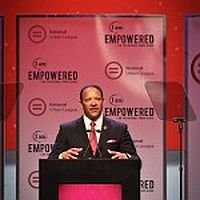 WASHINGTON (NNPA) – The wealth gap between African Americans and Whites has expanded in recent years and is not likely to narrow without significant reductions in Black unemployment and changes in a system that favors the wealthy over poor and middle class Americans, according the National Urban League's 38th annual State of Black America report titled, "One Nation Underemployed: Jobs Rebuild America."
The report released April 3rd at a news conference at the National Press Club in the nation's capital. In a statement accompanying the report, Marc H. Morial, president and CEO of the National Urban League, said: "The 2014 State of Black America and corresponding Equality Index indicate that while each state and city has its own economic recovery story to tell, the consistent refrain is that there is an urgent and growing disparity between the few who are reaping the rewards of economic recovery and the majority who are still reeling from aftershocks of the Great Recession."
Morial added, "While 'too big to fail' corporations went into the bail-out emergency room and recovered to break earnings and stock market records, most Americans have been left in ICU with multiple diagnoses of unemployment, underemployment, home losses and foreclosures, low or no savings and retirement accounts, credit denials, and cuts in education and school funding. We must work to restore the very essence of 20th century America – the possibility of upward mobility for all – with a focus on meaningful solutions to these pressing challenges, including job creation and training, and ensuring that Americans are paid livable wages for the work they do."
The 2014 Equality Index is a yardstick used to measure how well African Americans are doing relative to Whites. In computing the Equality Index, 30 percent of the final score is based on economics while health and education each gets 25 percent and social justice and civic engagement each receives 10 percent on a 100 percent scale.
Explaining the Equality Index, the authors say: "That means rather than having a whole pie (100 percent), which would mean full equality with Whites in 2014, African Americans [with an index of 71.2 percent] are missing about 29 percent of the pie."
In other words, the larger the Equality Index, the closer Blacks are to reaching parity with Whites.
The Equality Index has declined from 73 percent in 2006, to 72.1 percent in 2010 to 71.2 percent in 2014. However, scholars caution that the overall figure might reflect progress in some areas and retrenchment in others.
Relative to last year's Black Equality Index:
• Civic Engagement index improved from 99.9 percent to 104.7 percent;
• Economics dipped slightly, from 56.3 percent to 55.5 percent;
• Social justice declined barely from 56.9 percent to 56.8 percent;
• Health (76.8 percent) and education (76.8 percent) remained unchanged;
The report also found:
• Black median household income ($33,764) is about 60 percent of Whites ($56,565), down from 62 percent before the recession;
• The poverty index for Blacks compared to Whites is 29 percent – 28.1 percent of Blacks live in poverty vs. 11 percent of Whites;