Jackson gives Redskins a playmaker at receiver
Former Eagles wideout recently signed a three-year deal with Washington
Maya Hughes | 4/7/2014, 11:56 a.m.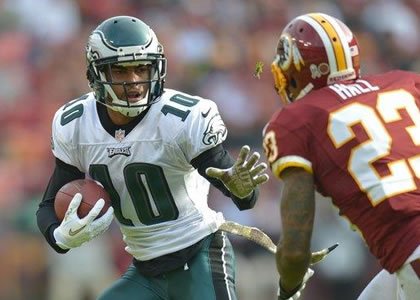 The Washington Redskins made their biggest move yet of the offseason on April 2, adding three-time Pro Bowl receiver DeSean Jackson days after the dynamic playmaker was released by the rival Philadelphia Eagles.


The deal is worth $24 million, including $16 million guaranteed. Jackson's addition seemed to be a certainty ever since he arrived in northern Virginia on March 31. During his visit, he dined with Redskins coaches, went out with players Pierre Garcon and DeAngelo Hall later, and met with team officials. Other teams that were in play for Jackson included the 49ers, Seahawks, Panthers, Browns, Bills, and Chiefs.
Jackson gives the Redskins a dynamic playmaker at receiver, something they have not had in some time. He has averaged 17.2 yards per catch in his career. The Redskins haven't had a receiver average more than 17.0 yards per catch with at least 50 receptions since Santana Moss in 2005. No other Redskins receiver with that many catches has even hit 15.0 per catch.

Only two receivers since 2008 have averaged more yards per catch -- Vincent Jackson and Malcolm Floyd. Since 2008, no player has more receptions of at least 40 yards than Jackson (35), and only Mike Wallace (21) has as many touchdown catches of at least 30 yards during that period.
Jackson is coming off an 82-catch, 1,332-yard season with nine touchdowns, tying a career high in touchdowns and setting one for yards. According to Elias Sports Bureau, no player has ever switched teams within the same division after a season with 80-plus receptions for 1,200 yards or more.
With Jackson signed, there was only one serious matter to resolve -- at least in the eyes of some fans -- and that was whether Jackson would wear No. 10, as he did with the Eagles. Griffin will continue to wear No. 10 and Jackson will start his new journey with the Redskins wearing No. 11.