Jay Z and Beyonce top Forbes list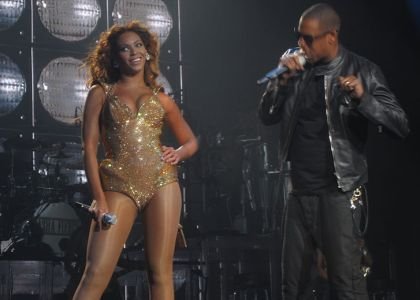 It is good to be the queen and the king.
Jay Z (he recently dropped the hyphen) and Beyonce continue their rule as entertainment's highest earning couple. The King of New York and Queen Bey, who married in 2008, pulled in an estimated $95 million dollars this past year according to Forbes magazine – putting them at the top of list for a second year in a row. Last year, the power couple raked in $78 million.
Music was the couple's main source of income, with Jay Z's platinum "Watch the Throne" and his tour earning $1.4 million a night. Although Beyonce has not released new music in years, she generated buzz for her Super Bowl performance and inked a $50 million deal with Pepsi. Her "Mrs. Carter World Tour" also brought in $2 million a night and according to Forbes, she out-earned her husband by $11 million.
Blue Ivy's parents are also savvy when it comes to business. Hova recently sold his stake in the Barclay's Center to start his own agency, Roc Nation Sports, which represents New York Giants Victor Cruz. He also owns the popular 40/40 Club in New York. Beyonce, ever the fashionista, still produces her clothing line, House of Dereon, and hawks her fragrances, Heat and Pulse.
New England Patriot Tom Brady and his wife, supermodel Giselle Bundchen, brought in a combined $80 million, putting them in the No. 2 spot and movie stars Brad Pitt and Angelina Jolie landed at No. 3 with $50 million.
Follow me on Twitter @shondamcclain