NAACP president to step down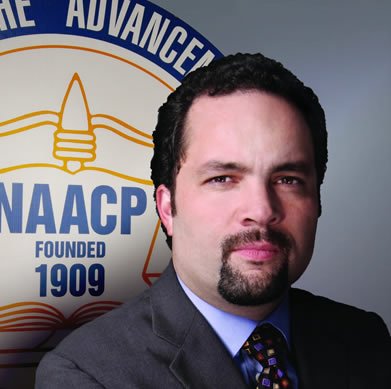 NAACP President Benjamin Jealous, who boosted the finances and increased the stability of the nation's largest civil rights organization, plans to step down at the end of the year.
The NAACP's board is forming a search committee to find the next president and CEO for the civil rights organization, its chairwoman said Monday.
Chairwoman Roslyn Brock said during a conference call that she expects the change in leadership to be an orderly transition. Jealous also used the call to elaborate on his desire to spend time with his children, a reason he cited in his announcement the previous day. His departure is effective Dec. 31.
In a statement on the NAACP's website, Brock, said she accepted Jealous formal letter of notice with regret.
"We thank President Jealous for his time leading the Association," stated Brock. "Under his leadership, the NAACP has built a highly competent staff that will carry our mission forward and meet the civil rights challenges of the 21st century. Our board, staff and volunteer leaders throughout the country deeply appreciate his sacrifice, and will continue to implement our game-changing goals for the next half century that include the restoration of Section 4 of the Voting Rights Act, implementing Trayvon's Law, bolstering civic engagement efforts and ensuring our community is enrolled in the Affordable Care Act exchanges."
In a statement Jealous noted his accomplishments with the organization.
"The NAACP has always been the largest civil rights organization in the streets, and today it is also the largest civil rights organization online, on mobile and at the ballot box too," stated Jealous. "I am proud to leave the Association financially sound, sustainable, focused, and more powerful than ever. Beginning next year, I look forward to pursuing opportunities in academia to train the next generation of leaders and, of course, spending a lot more time with my young family."
Jealous said that donations increased from $23 million in 2007 — the year before he was hired — to $46 million in 2012. The group also said its donors have increased from 16,000 people giving each year to more than 132,000 under his leadership.
Jealous said the improvements in the organization's finances made him feel comfortable that he'd kept his promise to the board that he'd be a successful leader.
Next Jealous, 40, said he wants to teach at a university and start a political action committee focused on promoting black and Latino candidates, along with progressives of all races.
The New York Times reported that "Mr. Jealous's tenure was not without controversy. He condemned the Tea Party movement, saying it contained "racist elements." And he criticized an Agriculture Department official, Shirley Sherrod, who had become a pariah of conservatives when a misleadingly edited video made it appear as though she sanctioned bias against white farmers. He later apologized for rushing to judgment."
Brock said staff members left energized after a meeting with Jealous on Monday.
"The NAACP is alive, and it's well," Brock said. "We have a strategic plan in place that will guide our work for the next 50 years."