Chris Brown arrested for assault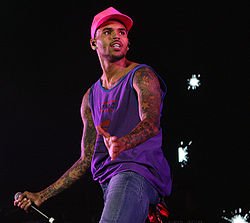 Trouble keeps finding Chris Brown.
The R&B singer was arrested on Oct. 27 on felony assault charges after an altercation outside of the W Hotel in Washington, D.C.
The Washington Metropolitan Police Department confirmed that at 4:25 a.m., Brown got into an argument with a man after the man tried to jump into a photo that was being taken of Brown and a female fan. Brown then started punching the man in the face.
Officials say that Brown did not appear to be under the influence of drugs or alcohol. Brown's bodyguard, Christopher Hollosy, 35, was also arrested.
The alleged victim was treated at a hospital for his injuries.
Brown has had multiple run-ins with the law this year. In June, a woman alleged that Brown violently shoved her to the ground at a California nightclub. After an investigation, prosecutors declined to press charges. He was also charged with a hit-and-run, after a minor car accident, but a judge threw out the case.
Brown, 24, is still on probation for beating his former girlfriend, Rihanna, in 2009. In August, a judge ordered Brown to complete an additional 1,000 hours of community service for fudging his community labor reports filed in his home state of Virginia.
A stipulation of Brown's probation requires that he stays out of all legal trouble.
Follow me on Twitter @ShondaMcclain