Don't forget to vote on Oct. 16 and Nov. 5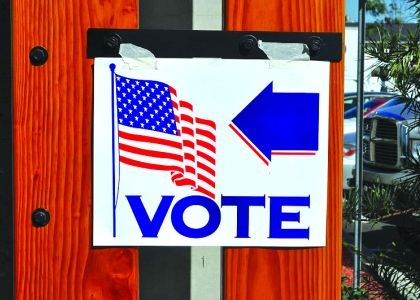 I am not going to tell you who to cast your ballot for, but I will say that is important that you vote.
Politicians pay attention to people who vote and tend to ignore those who don't.
If voting was not important there would not be the serious debate across the country about new voting laws and changes in election procedures.
Elections matter.
Elected officials approve budgets that affect funding for schools, police, fire, bridges and highways. They vote on policies that affect health care, public safety, job creation and wars.
This fall there are two big election days for New Jersey voters. There will be a special election on Wednesday, October 16 and a general election on Tuesday, Nov 5.
The special election will be a contest between Democrat Newark Mayor Cory Booker and Republican former Bogota Mayor Steve Lonegan.
On August 13 primary election, Booker and Lonegan easily won their respective parties' nominations in the special primary election to succeed the late Sen. Frank Lautenberg (D), who died on June 3. Whoever wins in the general election on October 16 will serve out the remainder of Lautenberg's term that expires in January 2015.
General election polling has indicated that Booker is holding a large lead in the election. But as the saying goes the only poll that really counts is the one on Election Day.
If Booker wins he will be only the second African American currently serving in the U.S. Senate. The other is Republican Tim Scott of South Carolina.
Voters will have a clear choice between the liberal moderate Booker and the conservative Lonegan.
Whoever wins will have major issues to deal with in the U.S. Senate including the Affordable Care Act also known as Obamacare, budget battles and possible intervention in Syria.
Many pundits are expecting a low turnout in the special election which will be held on Wednesday, an unusual election day. But voters should prove the pollsters and pundits wrong and come out big.
Voters will also have two clear choices in the November 5 general election when Democrat Barbara Buono challenges incumbent Republican Gov. Chris Christie.
The next governor will have a tall order including the need to improve the state's economy, improve education in its large cities such as Camden and Newark and reduce out of control property taxes.
Buono and Christie have two vastly different paths for where they want to lead the state.
The choice is clear. If you believe that the state is going in the right direction, then Christie is your candidate. If you believe the state is on the wrong track, then Buono is your choice.
In addition to electing a governor, voters will also vote on other important seats in the state assembly and other races.
There will also be important ballot questions that voters will be asked to approve or reject.
Public Question #1 ask voters to vote yes or no on whether they approve amending the Constitution to allow veterans' organizations to use money collected from existing games of chance (such as bingo, lotto or raffles) to support their organizations?