Ph.D. Student Earns Eagleton Governor's Executive Fellowship
Rutgers-Camden News Service | 11/18/2013, 12:24 p.m.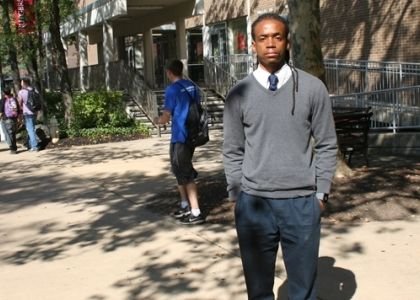 As a young minister, Clayton became impressed with the impact that nonprofit organizations made in their communities. With his interest piqued, the divinity school student served an internship for the Capitol Region Conferences of Churches in Hartford, Conn. The experiences bolstered his interest in nonprofit capacity building, particularly with regards to faith-based organizations. "There are a lot of faith-based organizations, especially in depressed communities, that have very good ideas, but are not clear on how to implement them," he explains.
Upon graduating from Yale Divinity School in 2008, Clayton heeded the advice of conference mentors and continued his graduate studies, pursuing a Ph.D. in strategic management at Temple University. At home again in Philadelphia, Clayton was ordained a minister in December 2009 at Star of Hope Baptist Church, and helped his cousin, Rev. George Nelson Jr., launch a new church, Your Will Christian Ministries, shortly thereafter in the Castor Gardens neighborhood. Today, Clayton serves as executive pastor of the church, helping Rev. Nelson to implement his vision. "Working in a new church can be frustrating, but it serves as a constant reminder of what can be accomplished when people have the courage to try," he says.
In fall 2011, he transferred to Rutgers–Camden, where, a year into his studies, he shifted his focus after writing a research paper analyzing the impact of gerrymandering – the redrawing of political boundaries in order to give a political party an advantage – on local-level community development efforts in the Philadelphia area. Among his findings, he discovered that, in Pennsylvania's First Congressional District, which covers parts of Philadelphia, the African-American population was above 50 percent before the most recent redistricting, and fell below 50 percent after the new boundaries were drawn in 2000.
Clayton quickly concluded that many faith-based organizations in the communities affected by gerrymandering, "especially the African-American community, where the minority vote was essentially being diluted," would be at a loss if they were aware of this practice. With his newfound perspective, he created a niche for his doctoral pursuits – and ultimately his career aspirations – by merging his focuses on community development organizations and congressional redistricting.
"Community development organizations have set boundaries for the areas that they are trying to develop," he explains. "If those boundaries are within a certain district, they have to cultivate relationships with those particular city council representatives in order to get funding. If the neighborhoods are split across several districts, it makes it difficult for these organizations to get anything done."
Clayton plans to analyze these issues further in his dissertation, focusing on Tacony and Castor Gardens. In the meantime, he is committed to helping Tacony residents with their plans to revitalize their neighborhood. He hopes to learn a host of new community development strategies that are being used successfully throughout New Jersey when he begins his Eagleton internship this spring. And just as he has done time and time again, Clayton plans to carry those lessons with him when he returns to his old neighborhood.