Ph.D. Student Earns Eagleton Governor's Executive Fellowship
Rutgers-Camden News Service | 11/18/2013, 12:24 p.m.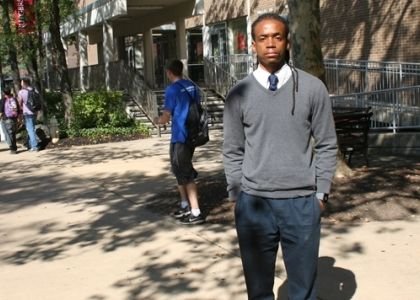 Returning to Tacony, his old neighborhood in Northeast Philadelphia, Spencer Clayton has quickly grown to relish his new role. As an intern for Councilman Bobby Henon, who represents the Sixth District, he routinely provides citizens – including longtime neighbors and friends – with the latest news and information regarding government-related programs and services. That is, when he isn't listening to their questions or concerns.
"Sometimes it's just helping them with the little things, such as filling out forms," says Clayton, a Rutgers–Camden Ph.D. student in public affairs. "But more than that, I can help make sure that the residents' voices are being heard. It has always been my plan to come back to this neighborhood and to help make a difference."
It is this same lifelong drive and commitment to serving others which has earned Clayton an Eagleton Governor's Executive Fellowship for the 2013-2014 academic year. Awarded by the Eagleton Institute of Politics at Rutgers University, the interdisciplinary fellowship provides select Rutgers graduate students – from diverse departments and schools on the Camden, Newark and New Brunswick campuses – with the opportunity to further their understanding of government, public affairs, and the practice of politics, and connect the fellowship experience to their chosen fields of study.
A total of 27 fellowships have been awarded for the current academic year through four related programs: Harold and Reba Martin Fellowship, Henry J. Raimondo Legislative Fellowship, Governor's Executive Fellowship, and the Eagleton Alumni Fellowship. This year's honorees also include five students in the Rutgers School of Law–Camden: Steven Brody, Leah DiMatteo, Peter Fu, Lauren Martinez, and Adam Scalice.
Established in 1956, the Eagleton Fellowship Program enables scholars to work toward their graduate degrees for one year without interruption. Throughout the year, Eagleton provides its scholars with access to practitioners in state and national politics, and government, who help bridge the gap between the scholars' academic training and the everyday challenges of a career in politics and public affairs.
As with other Eagleton fellows, Clayton is currently taking a seminar to prepare him for placement in the spring with a government agency or office on the local, county, state, regional or federal level. "I am only just beginning to understand the gravity of what it means to earn this fellowship," says Clayton, a resident of Feasterville, Pa. "This is going to open up so many new opportunities and experiences for me."
Back in his old stomping grounds, Clayton's latest success is pleasantly no surprise for those who have charted his lifetime of academic achievements. He showed promise from an early age when he was accepted and, subsequently, graduated from Central High School, a prestigious college preparatory school in Philadelphia. Clayton then earned his bachelor's degree in psychology in 2005 at Yale College, where he conducted research in the Autism Program at the Yale Child Study Center.
Clayton also set his sights on a higher power. With the guidance of his pastor, Rev. Hubert B. Barnes, at Star of Hope Baptist Church in Tacony, he became a licensed Baptist minister in 2004 and preached his first sermon there at 20 years of age. He then pursued a master of divinity degree at Yale Divinity School with the goal of becoming an ordained minister. He recalls choosing to become a minister in order to inspire others his age and to send a clear message that there is more to his generation than what is often portrayed in the media.