Kordell Stewart denies gay rumors, explains divorce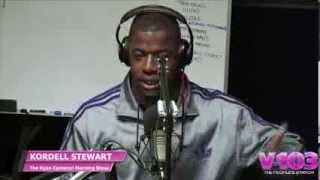 Former NFL quarterback Kordell Stewart has finally come clean about his divorce from "Real Housewives of Atlanta" star Porsha Stewart.
Kordell filed for divorce from Porsha in March, but neglected to tell his wife. Instead, Porsha, who was still living with Kordell, found out her marriage was headed to splitsville via Twitter.
Kordell told Atlanta's V-103 FM their divorce had nothing to do with him being gay or on the down low, as Porsha and her mother suggested on the season opener of "Real Housewives of Atlanta."
"I promise you on my life in everything that I'm part of, including my son and my father who's no longer here, that that has never happened nor will anything ever come up, ever come up, with no dude about me and nothing," Kordell told DJ Ryan Cameron.
Instead, he said, he filed divorce because Porsha neglected her marital duties and was not a good stepmother to his son from a previous relationship. According to Kordell, Porsha would stay out until 3 or 4 in the morning and when he would call her on it, she would tell him that she was grown and could come and go as she pleased.
This did not sit well with the former football star.
"I ain't never had this gangsta talk to me from my woman before from the standpoint of you're doing your thing, but it's supposed to be about the household," he said. "When you come out of your mouth and show that type of disrespect, you don't know how much that burned me up inside."
But he said "the straw that broke the camel's back" was when Porsha said Kordell's son, who lived with them, could not have a birthday party at their house (that he paid for) because it made her "uncomfortable," although Porsha had the Bravo TV crew and her family traipsing through the house day and night.
Kordell admitted that he still has love for Porsha, just from a distance.
Follow me on Twitter @ShondaMcClain