Cory Booker sworn in as newest US senator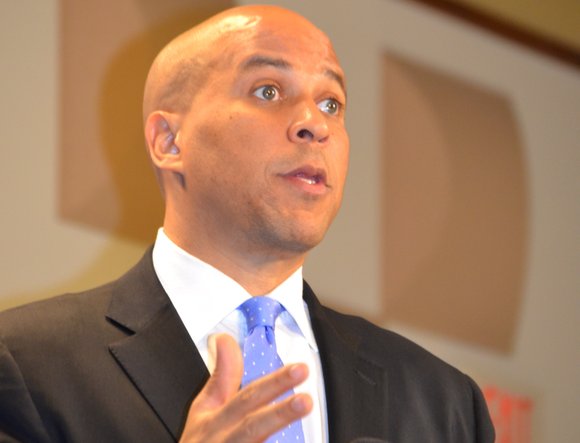 Former Newark, N.J., Mayor Cory Booker was sworn in Oct. 31 as a Democratic US senator from New Jersey.
Vice President Joe Biden administered the oath of office during the official ceremony as Booker's family members and friends, including talk show host Gayle King, looked on.
Booker was elected last month to complete the 15 months remaining on the term of former Sen. Frank Lautenberg, who died in June at 89.
Booker defeated conservative Republican Steven Lonegan in a special election on Oct 16.
The freshman senator is starting his new job with celebrity status.
Oprah Winfrey once dubbed him a "rock star mayor." He has 1.4 million followers on Twitter. He has brought millions of dollars in philanthropic money to Newark. He persuaded Facebook founder Mark Zuckerberg to donate $100 million to Newark's school system in 2010.
Booker received national acclaim in 2012 after he rushed into a neighbor's burning home and rescued a woman from a fire.
Booker, 44, is the first African-American to be elected to the Senate since Barack Obama. He was elected mayor of Newark in 2006 and re-elected in 2010.
According to his official U.S. Senate biography, Booker was born on April 27, 1969, in Washington, D.C.; graduated Northern Valley Regional High School, Old Tappan, N.J., 1987. He received his B.A. degree from Stanford University in 1991; M.A., from Stanford University. In 1992; he attended The Queen's College, University of Oxford, Oxford, England, as a Rhodes Scholar and received a graduate degree in 1994. He received his law degree from Yale Law School in 1997. He worked as an attorney in the non-profit sector. He was elected and served on Newark City Council from 1998-2002. He served as Mayor of Newark, N.J. from 2006-2013.
Booker said New Jersey residents have told him to work on reducing the state's high foreclosure and unemployment rates. His committee assignments include commerce, environment, public works and small business committees.
The Associated Press contributed to this report.