Obama honors PHILADANCO founder Joan Myers Brown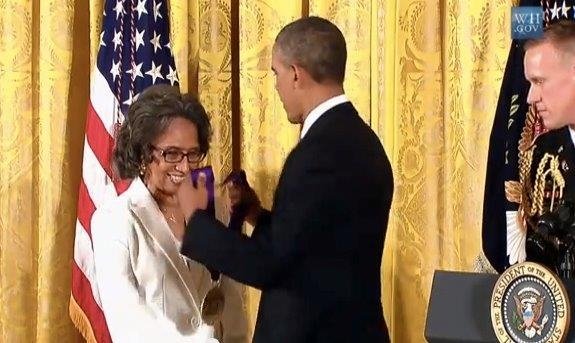 The other National Medal of Arts recipients are:
— Lin Arison, of Bal Harbour, Fla., co-founder of the National YoungArts Foundation and the New World Symphony.
— Renee Fleming, of New York, soprano known to many as "the people's diva."
— Ernest J. Gaines, of Oscar, La., author who drew on his childhood in the rural South in his work.
— Ellsworth Kelly, of Spencertown, N.Y., painter, sculptor and printmaker.
— Tony Kushner, of New York, playwright.
— Elaine May, of New York, for contributions to American comedy.
— Laurie Olin, of Philadelphia, landscape architect.
— Allen Toussaint, composer, producer and performer born and raised in New Orleans.
The other recipients of the National Humanities Medal are:
— Edward L. Ayers, of Henrico, Va., historian.
— William G. Bowen, of Princeton, N.J., former Princeton University president and academic leader.
— Jill Ker Conway, of Boston, historian and academic leader.
— Natalie Zemon Davis, of Toronto, historian.
— Robert Putnam, of Cambridge, Mass., social scientist and Harvard professor.
— Marilynne Robinson, of Iowa City, Iowa, author.
— Kay Ryan, of Fairfax, Calif., former poet laureate of the United States.
— Anna Deavere Smith, of New York, actress and playwright.
— Camilo José Vergara, of New York, photographer and documentarian.