Obama honors PHILADANCO founder Joan Myers Brown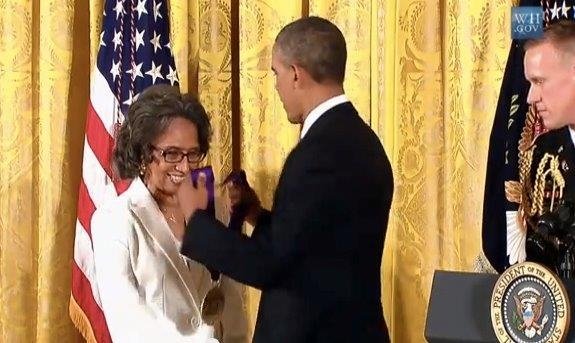 Philadelphia Dance Company Founder/Executive Artistic Director Joan Myers Brown was one of two dozen recipients to receive the National Medal of the Arts -- the nation's highest civic honor for excellence in the arts -- at a ceremony that took place Wednesday at the White House.
Brown is the founder of The Philadelphia Dance Company (PHILADANCO) and The Philadelphia School of Dance Arts.
According to her official biography, Brown serves as honorary chairperson for the International Association of Blacks in Dance (IABD), an organization she established in 1991. She also founded the International Conference of Black Dance Companies in 1988.
She is a Distinguished Visiting Professor at the University of the Arts in Philadelphia, which bestowed upon her an honorary Doctorate of Fine Arts; is a member of the dance faculty at Howard University in Washington, DC; and has been awarded an honorary Doctorate in Humane Letters from Ursinus College in Collegeville, PA.
Describing them as teachers, President Barack Obama said the recipients of national medals for contributions to the arts and humanities have created works that will last for American life.
"Joan Myers Brown is not only recognized nationally as exemplified by President Obama's recent presentation to her with the prestigious National Medal of Arts, but internationally," said Angela M. Brown, president of PHILADANCO's Board of Directors. "Her leadership has catapulted both PHILADANCO and the city of Philadelphia onto the world's stage, providing opportunities for thousands of minority dancers and choreographers around the globe while positioning Philadelphia in an international spotlight as a leading destination for and chief exporter of arts & culture.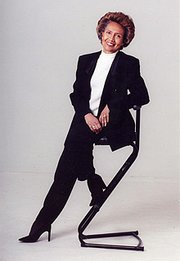 She and PHILADANCO serve as testaments to what can be achieved in the face of adversity and the undeniable, positive impact of the arts upon the communities in which we live and work."
Obama praised the medal recipients for using their talents "to open up minds and nourish souls, and help us understand what it means to be human, and what it means to be an American."
"We celebrate people like our honorees here today not just because of their talent, but because they create something new. They create a new space and that becomes a lasting contribution to American life," Obama said.
The president told the medalists: "The work that we honor today, the lifetime achievement of these artists and these scholars, reminds us that the human imagination is still the most powerful tool that we have as a people. That's why we celebrate their creativity and the fundamental optimism, the notion that if they work that hard somebody will actually pay attention. That's why we have to remain committed to the dreamers and the creators and innovators who fuel that progress and help us light the way ahead, because our children, our grandchildren deserve to grow up in a country where their dreams know no bounds and their ambitions extend as far as their talents and hard work can take them."
Among those receiving a National Medal of Arts are Herb Alpert, the musician behind the Tijuana Brass and filmmaker George Lucas.